How to Post on LinkedIn in 2019. Best Times, Team Roles, and Long-term Strategies
The team at Datarob works extensively with LinkedIn data. Our Clients ask us about ways to use this data in the best way. For B2B lead generation agency standard procedure looks like this: we grab data, structure it, and implement innovative algorithms to obtain insights.
We have gathered lots of information on this matter, so take a look at our most useful LinkedIn data insights.
Connect with proper leaders


Try to get in touch with as many decision-makers in your industry as possible. Send specific messages tailored to each industry or adjust your connection request message.
For example, here's my message  to connect with CTO:
Hello,
I want to extend my invite-only technical network.
Kindly connect me if you know 2/3:
- Difference between a framework and a library
- That Network model consists of 7 layers
- What microservices and serverless architecture are
Feel free to ignore if I've missed :) Have a nice day!
Use sales navigator to find proper people
Sales Navigator is a great instrument. Our contact researchers say that it really is the chief tool and they can't work without it.
Use a mix of automated and manual connections and positions. Avoid aggressive automated tools to avoid getting banned.
Try to utilize all available channels outside LinkedIn mail, mobile messengers, and ads remarketing.
If you don't have such information, ask Datarob or go to our data blog for some actionable advice.

Know the best time to post

We have analyzed the available sources about the best time to post on LinkedIn. I attest that the Sprout social report is true and can be a baseline for your strategy:
The least favorite times to post are every day from 9 p.m. to 3 a.m (check time zone for your auditory).
The hot slot to post to LinkedIn is Wed at 9–10 a.m. and 12-3 p.m. except Friday.
The best days to post on LinkedIn is Wednesday and Thursday.
The recommended 6-hour window for posting is Tuesday - Friday from 8 a.m.
The least effective period starts on Sunday and continues are every day from 9 p.m. to 3 a.m.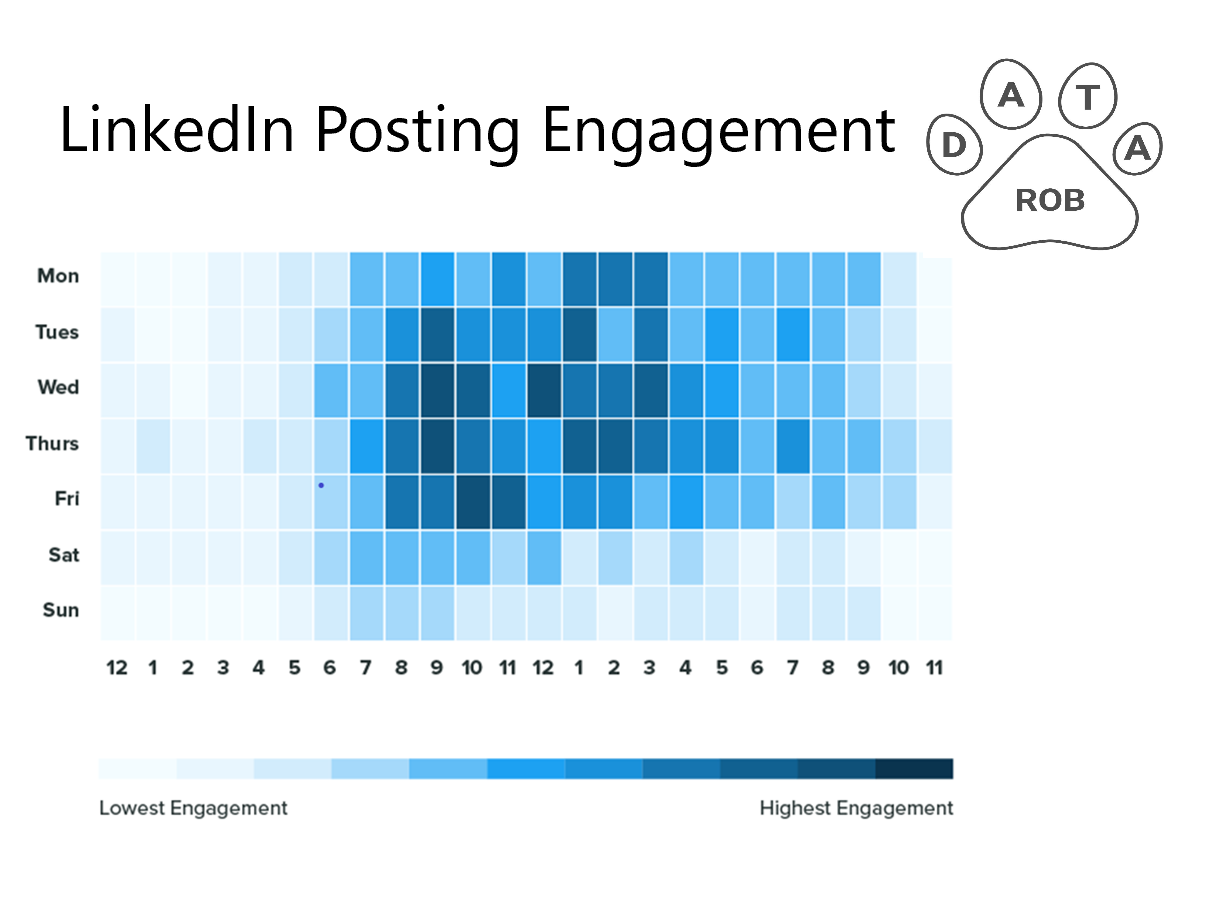 Long term game
LinkedIn loves old players. The network sets limits for connections per day, as well as  the number of outgoing messages etc.
Edit your profile's during several years than start actual posting.
Fill your profile. Add fitting skills, join several thousand specialists for core industry or check your geo skills with full guide for local lead generation.
Use different roles for the LinkedIn team

Use different roles for the LinkedIn team. We recommend three leading roles for LinkedIn posting:
Data Researcher:
As LinkedIn is now aggressive and avoids data loading, we often use the manual effort of Data Researchers.  The researcher is a regular user with a premium account who gathers and validates the required information, builds connections and makes basic posting.

Decision-maker
A person-owner of the LinkedIn profile. It's someone who connects leads and new businesses to your company. One great profile is better than ten mediocre ones. Don't forget about this simple rule.
Content Writer
LinkedIn Pulse is a dedicated publishing platform created for LinkedIn network. Pulse started as an instrument for top leaders and influencers. Then Pulse was connected with all LinkedIn users.
Readers love long and smartly written articles with useful professional content. As company decision makers are usually busy, somebody has to support transfer ideas to widespread articles.